App founder Chris says Cookoo Eats getting close to 100 orders a day since launch five months ago
Homemade meals delivery service novelty of Cookoo Eats service
Cookoo eats founded as start-up by group of friends
Cookoo foods available both on Play Store and Appstore
FT – Cookoo Eats, a food delivery app launched as a startups by a group of friends as Jaffna's alternative to  similar popular apps in Colombo and the suburbs such as Uber Eats and PickMe Food is fast gaining popularity in the Northern capital.
Chris Vithu who founded the Cookoo Eats with friend Minerva Jeyarajah now have eight members on the team, all close friends, and who are contributing with passion and determination make the app a household name in Jaffna.
"We launched in September last year and now we have 13 restaurants and six homes that have signed up. The novelty of Cookoo Eats is that we deliver homemade meals, and this is one feature that sets us apart from others," Chris said.
When Cookoo Eats started, the focus was on delivering food from hotels and restaurants but later the focus shifted to include home-cooked meals. "In Jaffna, there is a huge demand for home-made food, especially among users how have shifted to Jaffna for short term stays. Therefore, we started listing out individuals who are all certified, who cook at home for business purposes. Users can choose the individuals and make their orders the day before so that we will be able to deliver their food on time the next day," Chris said.
There has also been a demand for the food delivery service from tourists who love to engage with the local culture and enjoy local food. "Our platform provides a service similar to Airbnb, where the tourists can schedule their arrival in Jaffna along with the food preferences they want to have here. As per their preferences, they will get to eat at the houses of the hosts and engage with them, and along the line they would get to learn more about the way of life in Jaffna, than observing from a distance," he said. Cookoo Eats delivers within a 10 km radius of Jaffna town at the moment and hope to expand their operations as the demand picks up. They have also started a pilot project to rope in university students in the food delivery service.
"Under this project, university students are asked to sign up to deliver food within a 3 to 3.5 km radius using push bicycles. This will give them an income and also make Cookoo Eats gain more popularity," Chris said.
All the members on the Cookoo Eats team are graduates from Uki, a coding school run by Yarl IT Hub (YIT), which offers a six-month long intensive in-class training program that trains students to acquire skills needed to join tech companies as interns/junior developers or become entrepreneurs.
Yarl IT Hub (YIT) is a not-for-profit social enterprise which strives towards inspiring, supporting and fostering Technology, Innovation and Entrepreneurship in the community. It is an organisation by the community for the community and consists of all those who share the dream of making Jaffna into the next Silicon Valley and abides by the core values of the organisation.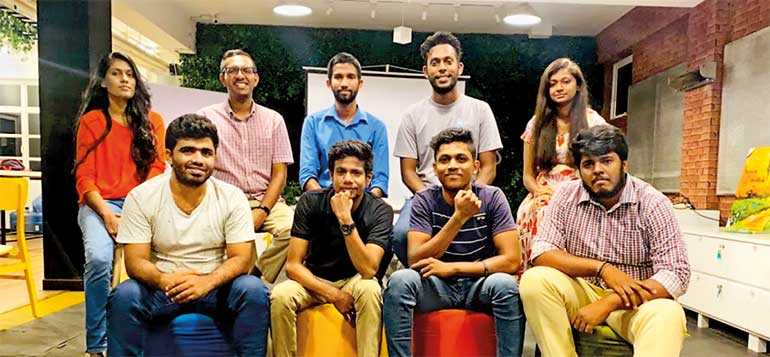 "I was a student at Uki in 2018, an initiative of Yarl IT Hub, and as our final year project we had to present an idea that we would like to run as a start-up. A couple of us from Uki decided to go for a platform that would provide tourists with home-made food. When we presented this projected, the response was encouraging and then we decided to look at it as serious business venture," Chris said.
Before starting the Jaffna operation, Chris had run a   pilot project in his hometown Kilinochchi but as he lacked the technical knowledge to establish an online platform at the time, he had run it through WhatsApp initially.
"Since I had friends who run restaurants, I printed leaflets and gave them to frequent customers. The only thing we requested them to share was their location to which the food should be delivered. We promised to deliver food for three days with the delivery charge of Rs. 50. I ran it for 14 days and received around 35 contacts. I got 7-10 orders and I had completed around 84 orders during this pilot run. During these 14 days I earned around 40,000 rupees," Chris said.
Later Chris had the opportunity to represent Sri Lanka in a contest called South Asia Connect that happened in Delhi where a team there assisted him to develop the necessary technology. Cookoo Eats was launched in Jaffna as a pilot project in April last in collaboration with the team he met in Delhi and the project continued for around for 38 days and on the first day itself it had completed 34 orders.  "Within 12 hours of the launch of the app there were 172 app downloads while the Facebook post about the launch got like 80 shares. This moment of the launch actually encouraged me to take this idea forward."
Cookoo Eats these days delivers up to 100 orders a day with many university students and office workers signing up for the services.
A question that is often asked from Chris is why they chose the name Cuckoo Eats. "There is no big story behind the name. We were researching a name and wanted something that would be catchy like Google and Yahoo. Cookoo Eats set off a spark and we chose it," he said.